It is constantly said that art does not make sense.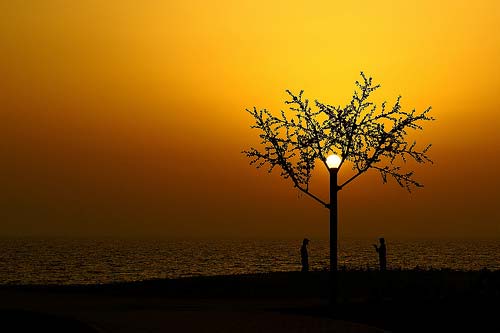 It is constantly said that art does not make sense. "I could paint this" or "This looks like a five-year-old created this in kindergarten" are frequently murmured when viewing art. Graffiti is one of the most overlooked forms of art. It is considered a nuisance and is illegal in most places, but Bansky, a United Kingdom streetartist whose identity is unknown, has been changing that belief with his thoughtful, emotional and provocative art pieces giving intense displays of what is happening to society.
Bansky recently made his presence know in Gaza this week by releasing a two-minute video. The video resembles a travel advertisement and shows different areas of Gaza that has been destroyed. There are clips of the mystery street artist making his mark on different areas around the city. One of which showed a man with his head in his hands painted on a door that is standing alone amongst a pile of rubble.
Banksy also posted the following image of a kitten and quote on his/her/their personal website.
"A local man came up and said 'Please whatdoes this mean?' I explained I wanted to highlight the destruction in Gaza by posting photos on my website but on the internet people only look at pictures of kittens"
The Israeli West Bank Wall,which runs along the entire border of Gaza and Israel, also got a few pieces of Bansky art. The paintings show clever openings in the wall displaying blue skies and green land on the other side. The wall, which was constructed in 1994 by Israel to protect the area from Palestinian suicide bombers, runs approximately 430 miles.
If a person does not understand what makes art, art, they should look at Bansky. Art brings emotion within the viewer and Bansky does just that. He makes you think and brings awareness to so many issues society faces. With his provocative art, Bansky has definitely made his presence known.
Posted in Newspaper Post Date 06/05/2017

---